Pure of Heart and Spirit, a white mage or priest may suit your more passive fighting technique. When things get hairy, you are the one everyone depends on to heal, protect, and revive. Every party needs a defensive side, and this character is all about defence.

WHITE MAGIC

Cure 50JP- Restores HP.
Cure 2 180JP- Restores HP.
Cure 3 400JP- Restores HP.
Cure 4 700JP- Restores HP.
Raise 180JP- Revives dead.
Raise 2 500JP- Revives dead, full HP.
Re-Raise 800JP- Gives Re-Raise status.
Regen 300JP- Gives Regen status.
Protect 70JP- Gives Protect status.
Protect 2 500JP- Gives Protect status.
Shell 70JP- Gives Shell status.
Shell 2 500JP- Gives Shell status.
Wall 380JP- Gives Protect and Shell.
Esuna 280JP- Cures most status ailments.
Holy 600JP- Holy attack.

REACTION ABILITIES:

Regenerator 400JP- Get Regen when attacked.

SUPPORT ABILITIES:

Magic Defend UP 400JP- Lowers magic damage received.

MOVEMENT ABILITIES:

None.
Weapon: Staff
JP to Master: 6310JP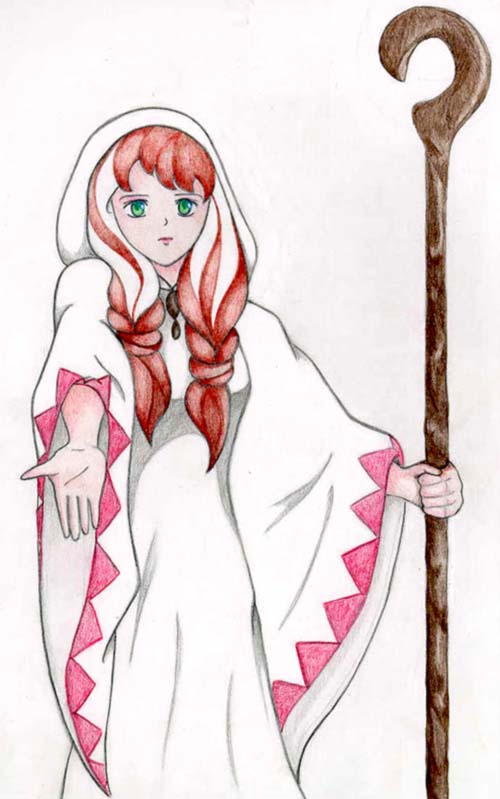 Check out the rest of Amber's Gallery "The Way In" by clicking the Mage!